XR in Education: Background
Many recent studies, including one by Stanford Digital Education, have highlighted the promise of extended reality (XR) to effectively teach complex concepts in fields ranging from anatomy to engineering and physics. XR — an umbrella term incorporating augmented, virtual and mixed reality technologies — lets learners experience subject matter in ways that are simply not possible with traditional methods, leading to improved understanding and retention. In the United States, XR is being used in universities such as Harvard and Stanford to enhance learning experiences. K-12 schools in China are using the technology to improve student engagement and learning outcomes. Other countries such as Japan, Australia, and the United Kingdom are also exploring the use of XR technology in education.
However, XR can often be very broadly defined. This article will discuss a specific extended reality solution for K-12 education from Illumetry IO and Varwin Education, and its potential impact on the educational process.
What Is Varwin Education?
Varwin Education is an educational platform teachers and students can use to create and manage virtual applications to use in their lessons in a classroom or at home. An example application is for chemistry, where students can conduct 'dangerous' experiments in a safe virtual environment. Teachers and students can create unique immersive applications or even an entire virtual world of multiple projects on a variety of topics, easily investigate complex topics and achieve a sense of full immersion in the educational process. From anatomy to emotional intelligence, children can explore the school's curriculum while having fun and even developing their programming skills thanks to Varwin Education's use of the low-code visual programming language Blockly.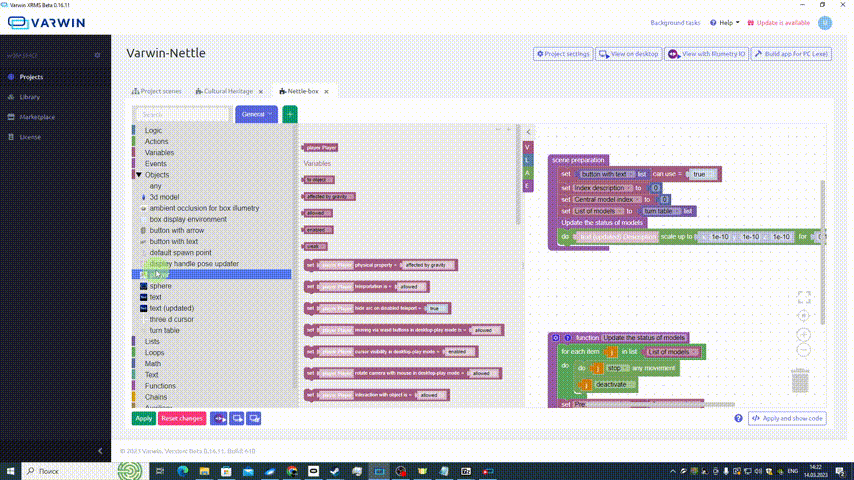 Varwin Education is:
Easy like Scratch

Entertaining like Minecraft & Roblox

Useful like programming classes
Competitions and Hackathons with Varwin Education
In the first international VR hackathon, held in 2021, students from Singapore and Russia created VR projects with the Varwin Education platform. The projects focused on the UN's Sustainable Development Goals, with topics ranging from water purification systems to solving climate change challenges.
VR tools helped the participants go beyond traditional educational disciplines and expand their knowledge in a fun and engaging way.
What Is Illumetry IO?
Illumetry IO is a holographic display for XR experiences built with MotionParallax3D technology. The displays have already seen success in educational settings, with even the youngest learners reporting unprecedented levels of engagement with the virtual content and no sense of disconnection from reality or from the people around them.
With true-to-life representation of the virtual holograms, Illumetry IO creates a "wow" effect that captivates students and transforms learning into an immersive experience, enhancing students' attention span and making the educational process more rewarding.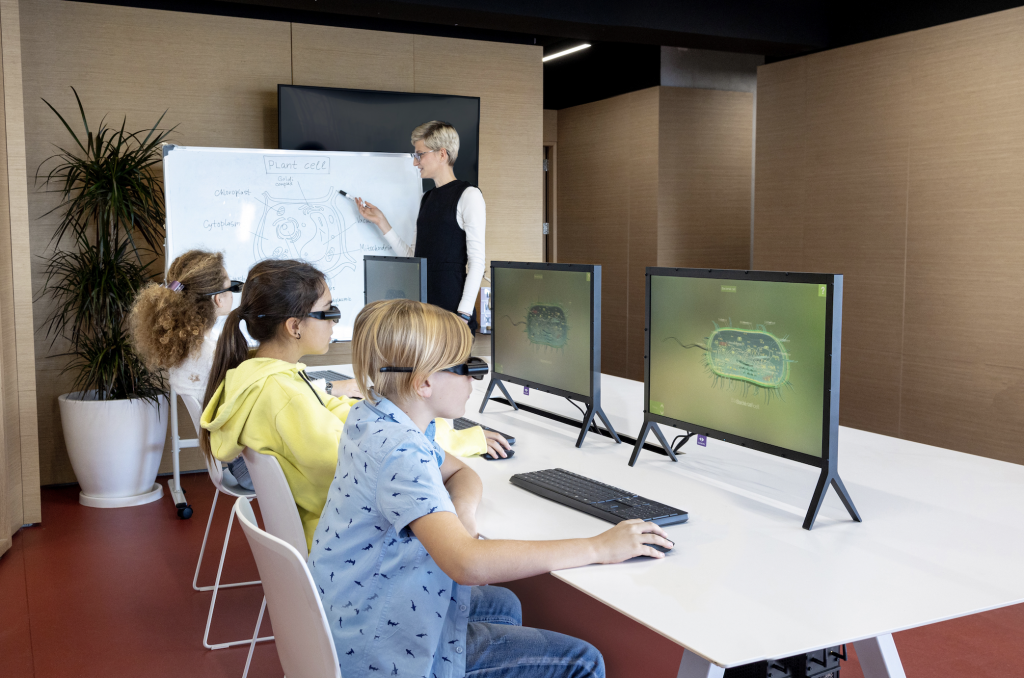 By adopting an immersive approach to data representation, Illumetry also helps students develop their spatial intelligence. Topics that involve complex systems, such as STEM subjects, become much easier to comprehend and visualize as students can view and manipulate virtual holograms from various angles.
Illumetry IO & Varwin Education Join Forces
Varwin Education and Illumetry IO have combined their expertise to provide unique opportunities for learning and developing extended reality educational experiences.
Varwin Education is now available on the Illumetry IO display, allowing users to develop and run XR training applications in holographic mode with stereo glasses. Students can create interactive scenes using their own 3D models and no-code visual programming, with every object seeming to physically pop out from the display. With this fusion of intuitive software and unparalleled XR experiences, learning is transformed and students become highly engaged in a diverse range of subjects. Even better, the solution maintains student-teacher interaction. The tool is fun to use, meaning students stay focused on their classes and teachers find it easier to keep students engaged in the learning process.
For Teachers:
Easy to implement the tool into the education program

Enhances teaching methods, making the process more rewarding
For Kids:
Serves as an easy stepping stone into the growing developer profession

Facilitates engagement even with complex topics
For School Leaders:
Helps upskill teachers through XR development training courses

Adds value to all participants of the educational process
Varwin Education tools make it easy to create interactive Illumetry projects in holographic mode, opening up exciting opportunities for a wide range of subject areas:
Anatomy & biology: Take students on a tour of the human body or study cell structure.

History: Immerse students in key moments from history or explore artifacts in holographic format. Take students on virtual tours of museums, galleries, and historic sites.

Art & music: Create 3D models, digital art installations and immersive musical experiences.

Environmental studies: Simulate natural disasters and their impact on the environment.

Cultural studies: Explore cultures and customs from around the world.

World languages: Organize an interactive French lesson in a virtual classroom using XR objects to show examples of new words and phrases, and then test your students.

Computer science: Teach coding skills with interactive projects and challenges.

Science: Conduct virtual experiments and simulations to explore scientific concepts and theories.

Career exploration: Give students a taste of different professions and work environments.

Social-emotional learning: Use XR to help students develop emotional intelligence and social skills.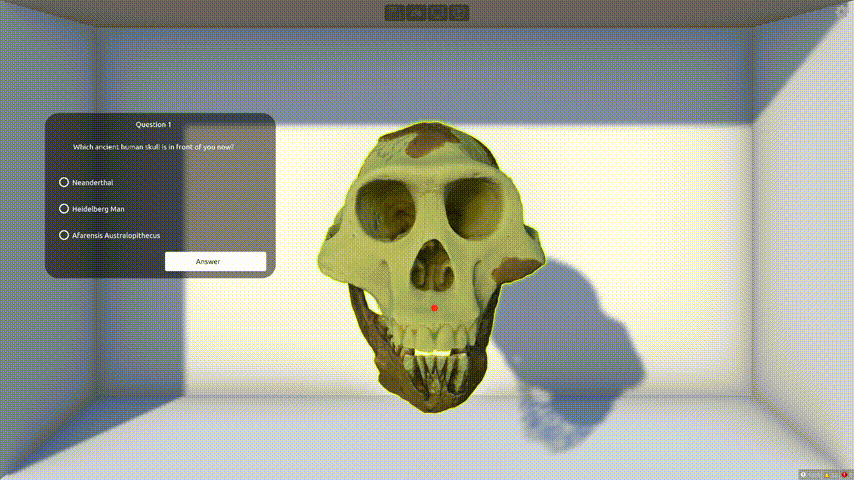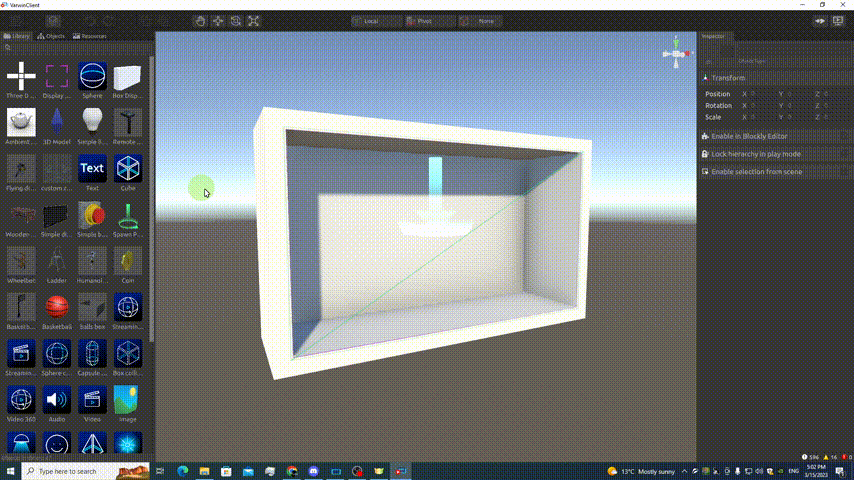 With Varwin Education tools, the possibilities for creating interactive and immersive educational experiences are virtually endless. Illumetry IO display technology brings holographic projects to life, providing an engaging and memorable learning experience for students of all ages.
If you want to learn more feel free to contact us.