Jacobs is a leading global coffee producer. Their marketing team has been searching for an innovative new approach of conducting market research effectively and efficiently. Varwins VR solution enables Jacobs to conduct virtual consumer research studies with captivating simulations.
Jacobs offers a diverse range of coffee products in more than 100 countries. Managing such a complex product portfolio across various geographies requires in-depth consumer research. However, conducting thorough research is costly and time-intensive. That is why Jacobs approached Varwin to create a VR solution which enables them to conduct comprehensive consumer studies without overboarding costs. Therefore, we've created a virtual store which allows Jacobs to create a captivating and innovative research environment that guarantees high participation rates.


Decisions in retail stores are often made in an uncertain and dynamic environment where customers decide between 10 different brands within a few seconds. Understanding the decision points of customers is very challenging as these may be a mix of many factors such as price, product design, personal experience, place on the shelf, etc. Jacobs, therefore, desired to find a new approach to test hypotheses and increase their topline revenue through marketing campaigns. Varwin was hired to solve the following three main challenges for Jacobs:
The traditional approach of interviewing people or requiring a survey to be filled out does not capture the data points Jacobs desires. While the answers to these studies are mainly rational, purchasing behavior is often emotional. Therefore, Varwin was asked to develop a VR simulation of a shop where the marketing team can guide users through and confront them with a virtual real-world scenario.

Moreover, Varwin was hired to improve the global training initiative of Jacobs and to guarantee high knowledge standards across its sales staff. The goal of the training simulation is to standardize the knowledge for customer-facing roles, unify the communication approach and reduce the training costs.
Jacobs has some products which are already iconic – and some are brand new! This means that any solution proposed to Varwin is required to be flexible, adaptable and scalable.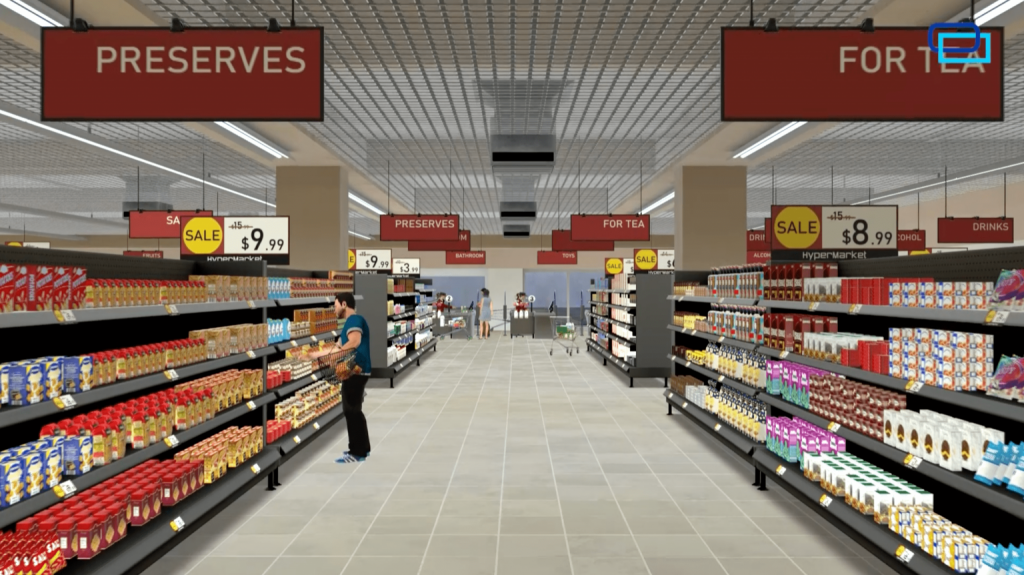 Varwin Retail VR Lab
The basis of our solution is our Retail VR lab. Our solution for the consumer industry includes a fully pre-built supermarket. Our VR solution is fully adaptable to meet individual design and branding requirements. Moreover, the high-resolution store enables Jacobs' marketing team to conduct marketing research in a real environment. Moreover, the VR solution is engaging and captivating, which increases the participation rate of any research conducted.
Fully branded

: Any corporate identity can be added to the base store simulation created by Varwin.

Anything can be added

: We have a wide range of products already digitized and can add an unlimited number of additional products if desired.

Scalable

: Our simulation is flexible and can be adapted to specific environments such as other countries or other audiences. This makes our solution absolutely scalable.

More data points:

Our solution tracks everything. Our VR simulation captures where customers look in the store, how long they look at something and what they will in general put in their cart.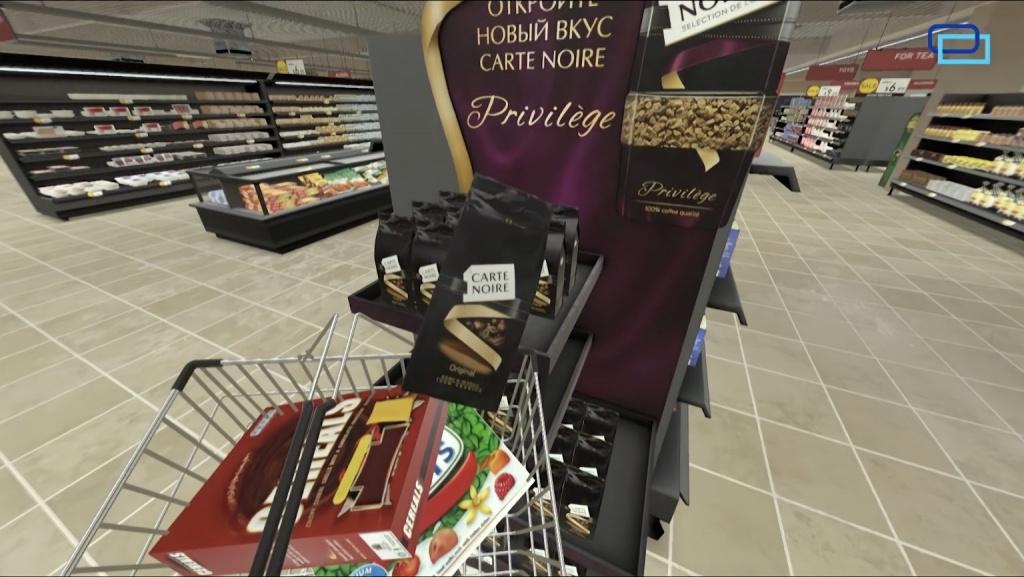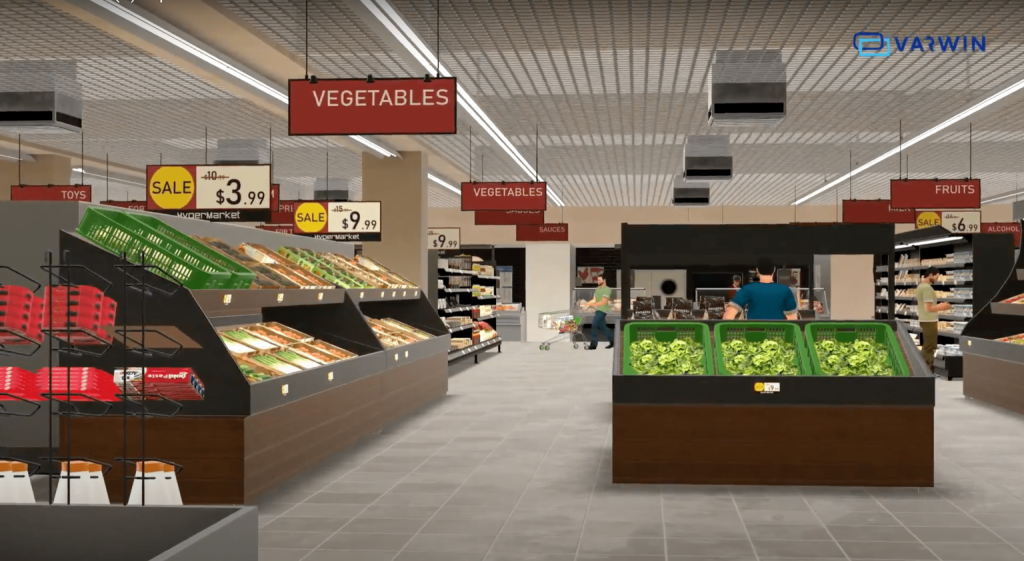 A novel training environment
The store created for the marketing team has been adapted to pre-defined customer scenarios for the training department of Jacobs. Through the provided playbook, our development team was able to create an interactive environment where employees can be trained to answer recurring questions as well as communicate product innovations effectively. With integrated speech recognition, the simulation can process the answer of sales people to the predefined questions and, eventually, rate the answer based on its informativeness.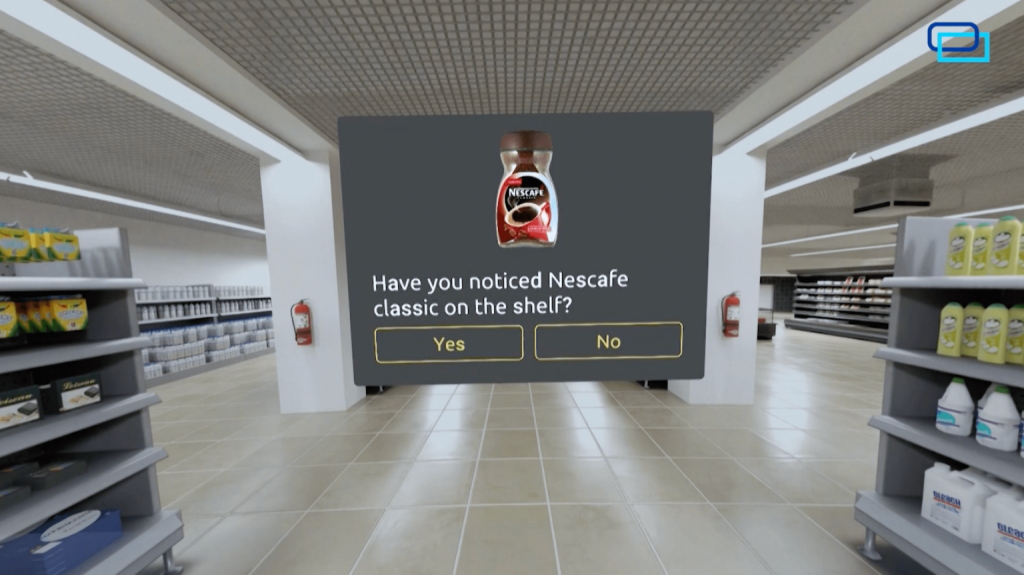 Scalability and flexibility guaranteed
Varwin's proprietary XRMS platform is a no-code platform enabling Jacobs' marketing team to adapt the simulation for each research study as needed. We trained our client to use the platform efficiently so that they can create their own playbooks and versions of the simulations in the future. This enables Jacobs to conduct market research cost-efficiently and without any developer.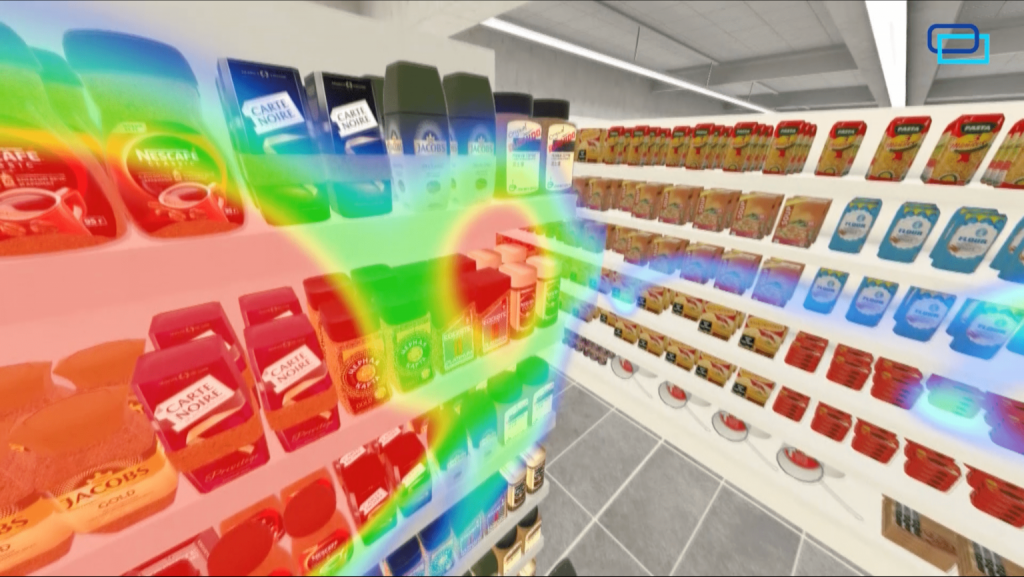 The impact our simulation created
Our provided solution has created a manifold impact for Jacobs. To date, Jacobs has replicated the store layout of five well-known store chains such as Metro, Auchan, Lenta, and Okay. Moreover, Jacobs is enabled to create heatmaps of where people go and look to better decide where to place new products for their launch. Lastly, the simulation is also used to decide on new label designs as well as promotional shelves placement.

Jacobs gained a method of researching consumers as well as training sales staff to perform better in the future. Are you interested in what VR can enable you to achieve? Schedule a call today!